About the 43 Voices
In 2014, a group of 43 Normalista students from Ayotzinapa, Mexico were on their way to an election rally when they were stopped and abducted. This sparked international investigations, with the Mexican government pointing fingers at local police and politicians allegedly linked to a cartel. Thanks to the efforts of the Normalistas' community, awareness of the issue spread. But the case remained unsolved for years.
Now, authorities claim that the students were mistaken for members of a rival cartel, and were killed and burned in a garbage dump. Despite this conclusion, none of the bodies have been found, and only fragments of burned bone have been matched to three of the students.
This tragedy highlights the ongoing drug cartel violence in Mexico, and the need for continued efforts to combat it. It also serves as a reminder of the importance of community activism and international support in seeking justice for victims of violence. While the fate of the 43 Normalista students may never be fully known, their memory lives on as a symbol of the fight for justice and peace.
Abel García Hernández, Abelardo Vázquez Peniten, Adán Abrajan de la Cruz, Alexander Mora Venancio, Antonio Santana Maestro, Benjamín Ascencio Bautista, Bernardo Flores Alcaraz, Carlos Iván Ramírez Villarreal, Carlos Lorenzo Hernández Muñoz, César Manuel González Hernández, Christian Alfonso Rodríguez Telumbre, Christian Tomas Colon Garnica, Cutberto Ortiz Ramos, Dorian González Parral, Emiliano Alen Gaspar de la Cruz, Everardo Rodríguez Bello, Felipe Arnulfo Rosas, Giovanni Galindes Guerrero, Israel Caballero Sánchez, Israel Jacinto Lugardo, Jesús Jovany Rodríguez Tlatempa, Jonas Trujillo González, Jorge Álvarez Nava, Jorge Aníbal Cruz Mendoza, Jorge Antonio Tizapa Legideño, Jorge Luis González Parral, José Ángel Campos Cantor, José Ángel Navarrete González, José Eduardo Bartolo Tlatempa, José Luis Luna Torres, Jhosivani Guerrero de la Cruz, Julio César López Patolzin, Leonel Castro Abarca, Luis Ángel Abarca Carrillo, Luis Ángel Francisco Arzola, Magdaleno Rubén Lauro Villegas, Marcial Pablo Baranda, Marco Antonio Gómez Molina, Martín Getsemany Sánchez García, Mauricio Ortega Valerio, Miguel Ángel Hernández Martínez, Miguel Ángel Mendoza Zacarías, Saúl Bruno García
Exhibition Brand Identity
The identity design process for this exhibit was a journey of inspiration, symbolism, and purpose. We drew from the iconic Zapatistas, known for their red bandanas, and the Normalistas, rural college students fighting for equal education. Red is a passionate color, universally recognized for danger, courage, strength, and power.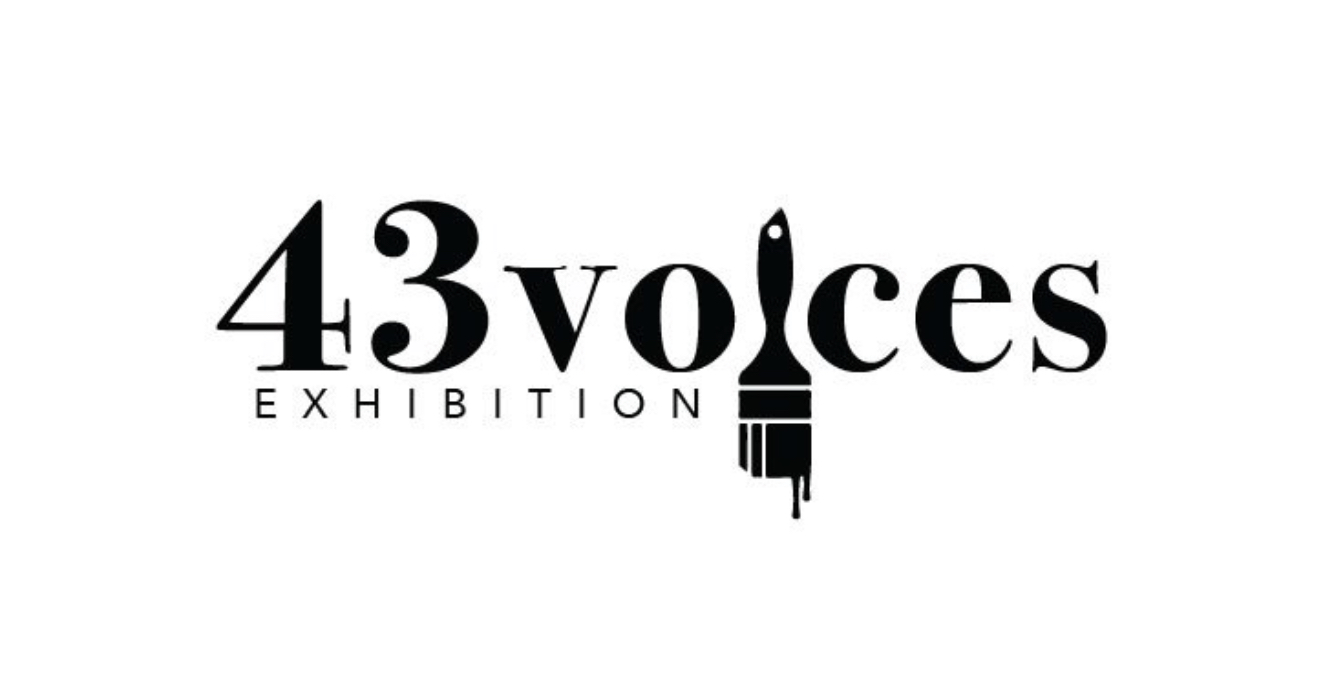 But in this case, we opted for black. Why? Because the 43 Normalistas were murdered in the act of resistance, and their memory still lingers in the hearts of those who seek justice. The exhibition lockup, a visual representation of the exhibit's name, had to be clear and legible. The name itself is a reminder of the tragic events of September 26, 2014, and the powerful voices of the artists who joined this collection. Through design, we pay homage to the past and inspire the future. The eyes of determination and courage can belong to anyone, anywhere, and wanted to honor that spirit in the design.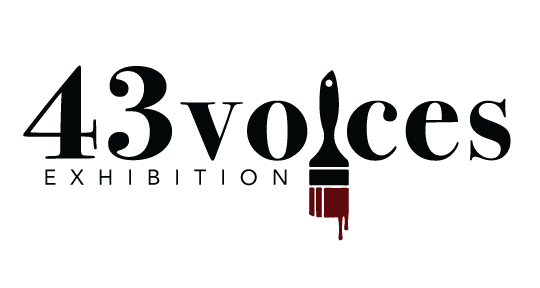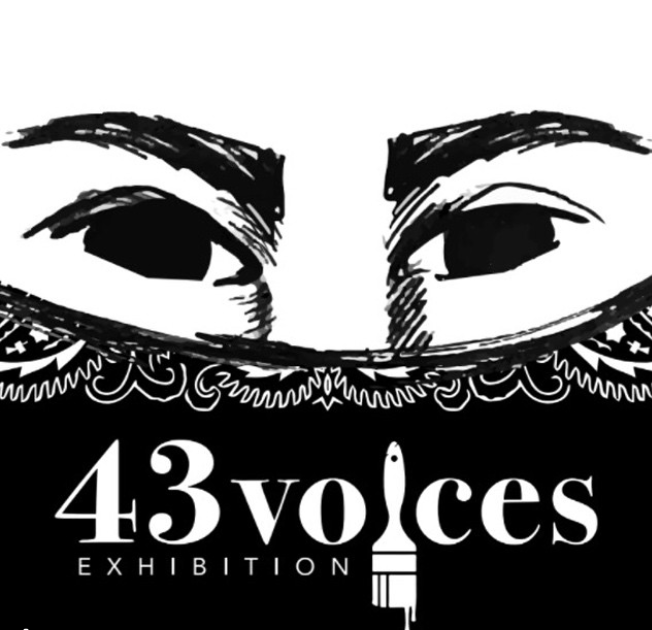 Branding Deliverables
Here you'll find a range of print pieces that were integral to promoting an exhibition. These include flyers and posters that were distributed online and offline to generate excitement for the event. Additionally, the event brochure we created was a comprehensive guide to the exhibition that provided visitors with all the necessary information about the artists, their works, and the events scheduled during the exhibition.
And finally, we designed display panels that were prominently featured in the gallery space, showcasing the artwork and providing context to the viewers. Whether it was through the online promotions or the physical displays, our design work was aimed at creating an immersive and memorable experience for all the visitors.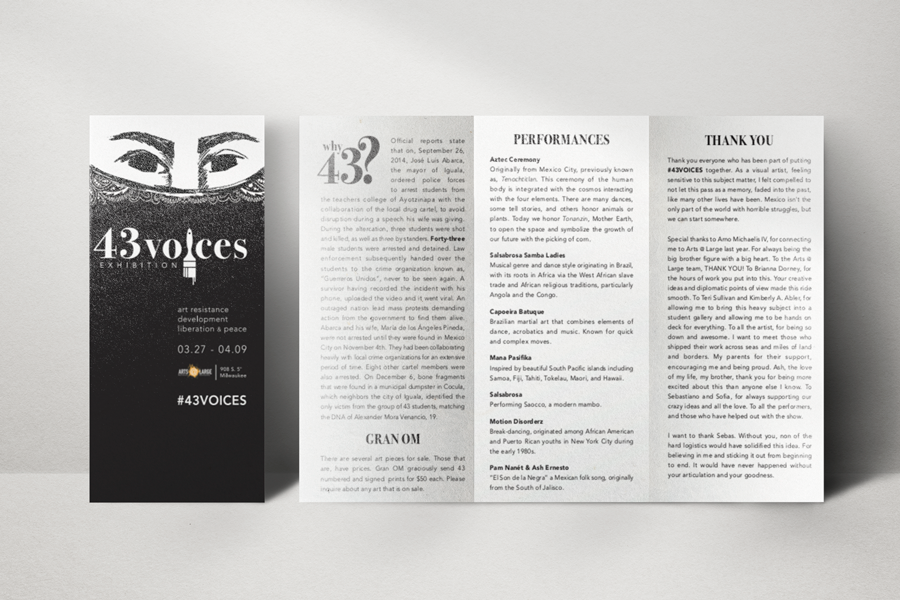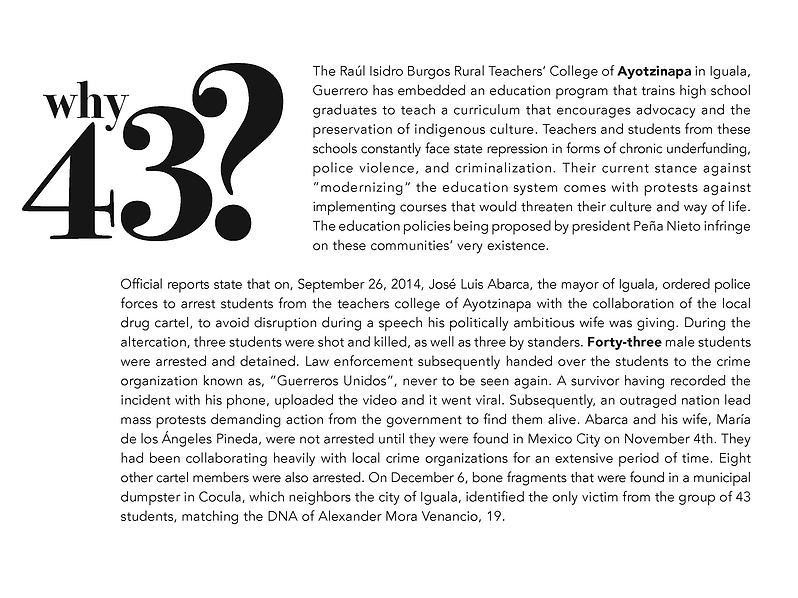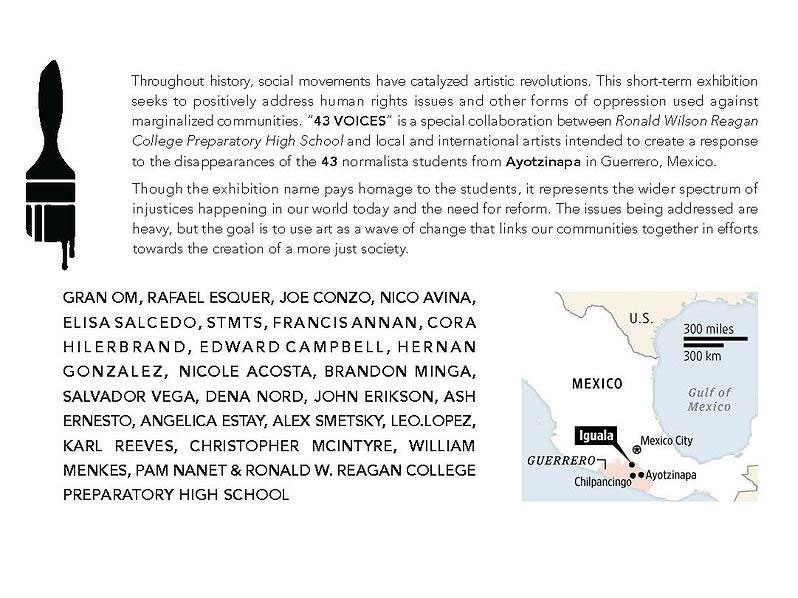 My Role and Process
As a designer and curator, I had the privilege of leading a passion project that aimed to shed light on human rights issues and promote social justice. The exhibition and communications I created took place at Arts @ Large, a vibrant arts center located in the heart of Milwaukee, Wisconsin. From March 27th to April 9th, 2015, we hosted a short-term exhibition called "43 VOICES" that brought together local and international artists and the Ronald Wilson Reagan College Preparatory High School community. Our goal was to create a powerful response to the disappearance of the 43 Normalista students from Ayotzinapa in Guerrero, Mexico, and highlight the many forms of oppression faced by marginalized communities. Through my design work and curation, we were able to create a thought-provoking exhibition that sparked meaningful conversations and inspired action.
The exhibit showcased the vast range of injustices plaguing our world today and gave a platform to those who have been silenced for far too long. We hosted workshops in the gallery, where high school students engaged in meaningful discussions on complex issues such as the Israel/Palestine conflict, LGTBQ+ rights, police brutality, racial segregation, and women's rights. These may be heavy topics, but I firmly believe that they are crucial conversations that must be held in safe spaces. Through our art and social justice initiatives, we aimed to unite communities and spark the much-needed dialogue on these pressing issues.
Social Media
To create an impactful social media campaign, we launched #43VOICES. Our design approach involved encouraging our participating artists to generate buzz by releasing sneak peeks of their work on social media platforms and tagging it with the campaign hashtag.
Additionally, we live-streamed our opening event, which allowed us to reach a wider audience. Despite facing a few technical glitches on the day of the event, we were thrilled to see the exhibit gaining momentum online as community members began documenting and archiving the two-week journey. As a result, we were able to create a digital gallery that will continue to live on and inspire for years to come.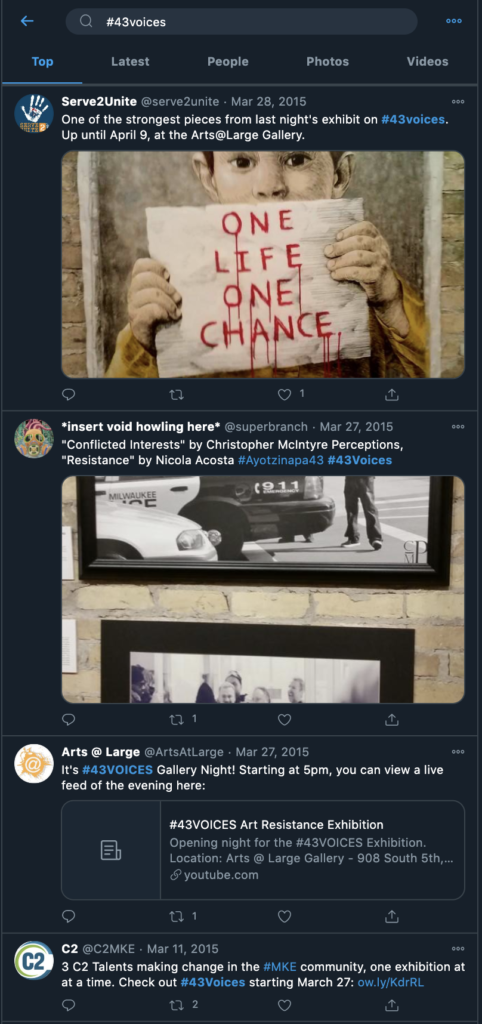 Acquisition and Recruitment
Utilizing my extensive network from my time at the Fashion Institute of Technology, connections within my local community, and travels throughout Europe, I was able to establish relationships with prominent artists from all corners of the globe to bolster our acquisition and recruitment process. To formally request participation, I crafted literature detailing the events of September 26, 2015, and encouraged artists to share their personal experiences, fostering a universal connection. Notable artists who contributed to our initiative include Gran Om, Francis Annan Affotey, and Joe Conzo.
The Space
The gallery's location on the border of Milwaukee's south side, known for its marginalization and segregation, was a conscious decision to bridge the gap between various social variables, including race and economic status. As one of the top five segregated cities in the United States, it was crucial to establish a space that could foster inclusivity and bring together diverse communities. Arts @ Large provided funding for the exhibit on the condition that students would be involved in the project. With a total of 43 artists, including 23 international artists and 20 students from Ronald W. Reagan College Preparatory High School, the gallery was curated to showcase the students' artwork.
Taking on this passion project was no simple feat – it was my first time curating a space of this magnitude. However, I was determined to stay true to the theme of integrating communities and ensuring that student art was given equal importance. To achieve this, I categorized the art based on a theme rather than artistic status, which presented its own set of challenges. But this only fueled my inspiration and motivated me to push past any obstacles and create a truly inclusive and impactful exhibit.
Workshops and Press Conferences
Our two-week run of events inside the space was truly transformative. In addition to identity creation and artistic recruitment, we also hosted a variety of workshops that left a lasting impact. From thought-provoking film screenings to uplifting Son Jarocho performances, attendees were inspired and empowered to create change. But the most impactful moment came unexpectedly when we were honored to host Omar Garcia, a survivor, and family members of the victims at the gallery. In that same moment, we seized the opportunity to hold a press conference, calling on local government officials to help us pressure the Mexican government to launch a full investigation and find those responsible. This experience was a powerful reminder of the impact and importance of designing a space for all – a space that can drive meaningful change and inspire action.