BEFORE ITOTIA
My brother, Ash Ernesto, and I started dancing Mexican folkloric in 2011 in Milwaukee, WI. With danza, we created a bond so unique, it transcended experiences beyond normal family life and built unforgettable connections with several people and communities throughout our dance career. Aztec dancing, in particular, became the way we were able to relate to and continue learning about our heritage and Mexican culture. Throughout this six-year trajectory, we had the pleasure of dancing with Ballet Folklorico Los Hermanos Avila and Ballet Nacional de Milwaukee where we both taught and directed.
Honor, Respect, Gratitude, and Service
Aztec dancing and its methodology ingrained values that are easily translatable to everyday life. Lessons of leadership come when you put into practice acts of service and humility. Both Ash and I consider ourselves to be educators, so we took our skills to the next level, eager to get our knowledge out into the world. The value of being of service to others is part of what makes Danza beautiful. It is a communal practice that forges bonds that last lifetimes and challenges our identities in such a way that makes us question the metaphysical theories of existence. We were soon being sent to teach other dance teams danza as far as Edinburg, Texas, creating lifelong alliances.
Changes
Change is the only constant thing we can count on, and to grow, we had to continue changing as individuals. While my brother continued his mandate as director of Ballet Nacional de Milwaukee, I joined a Mexican Dance Ensemble when I moved to Chicago, Illinois in 2016. As a dancer, I started giving danza classes to my fellow teammates.
Beginning Itotia
Due to a lack of interest and value, I decided to create my own dance company and work as a separate entity in order to open the doors to work with other groups, dance teams, and members of the community without animosity. The resistance, combined with an unfortunate loss of a family member, resulted in the birth of Itotia on October 17, 2019. The picture is of the original members of Itotia Mexica Xi at our first church performance in 2016.
Branding
Itotia now needed a visual identity that represented its strength and autonomy. The design was inspired by the chimalli, or shield, historically used in battle by Mexican warriors. Traditionally, the chimalli showed a warrior's ranking, and the most common design shown below to the left is Huitzilopochtli. This symbol represents the masculine warrior energy that exists in all of us, the fighter.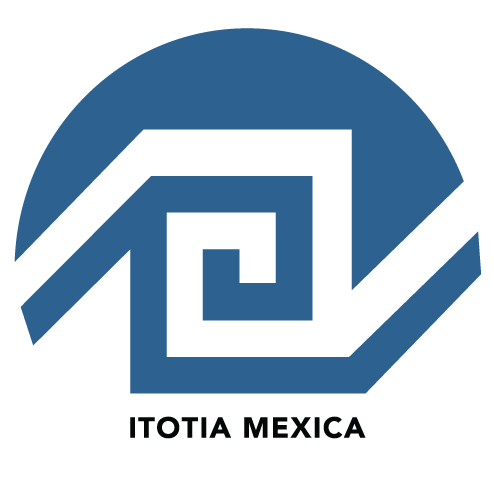 Keeping in mind the systematic attempts to eliminate indigenous histories and the imposition of religion, common misconceptions exist when we hear about Aztec warriors. For example, using current notions of gender norms and roles to make sense of the past often leaves much to interpretation. To try to correct those wrongs, I decided to design a version of this symbol to represent a group of strong women leaders that wanted to reclaim the values of duality (both male and female) that exist in all of us. The strength which we used to present ourselves as warriors on and off stage, regardless of gender, needed to be matched.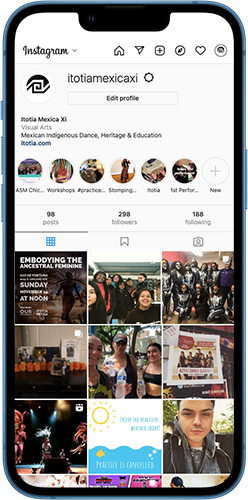 Social Media
Itotia Mexica Xi had an engaging social media presence that was creatively directed by me and, in most cases, executed by Itotia's social media expert and dancer, Leslie Castillo, using Canva. Once a week, Ms. Castillo and I would go over a weekly agenda for our social media content. The voice of Itotia evoked compassion and solidarity and valued human rights issues. It also highlighted collaborations with other dance teams, community members, and participation with youth.
Promotional Material
Creative Process
The creative process evolved as obstacles and their solutions presented themselves. Funding for the team came out of pocket at first, but the objective was to have Itotia be self-sustainable- a goal that was accomplished less than a year later. In the beginning, we needed to find the minimal requirements (i.e. recruitment of like-minded individuals, a safe space to practice, music, and supplies).
| | | |
| --- | --- | --- |
| | | |
| Median relative distance from all | | Social media channels (For classes and auditions) |
| Reachable via public transportation | | Website (community and institutions that want more information or workshops) |
| | | Community involvement through the dance network |
There is no life without a heart, no community without love, and no danza circle without its huehuetl. These drums are carved out of tree trunks before wet cowhide is stretched over the top during a ceremony that expresses gratitude to the elements for providing beauty and function in our world. More often than not, carvings accentuate these drums' splendor telling stories of who and what they represent. We named our huehuetl Itotia, and she became our heartbeat. Itotia was brought to life by the late Robert Herrera Sr., a former Chicago firefighter and father of one of our own, Bianca Herrera. Itotia as a whole became a reality due to true grassroots efforts worth mentioning.
Rehearsal Space
Not new to displacement, I began to look for a home to call our own. It became important that I found a location that I was able to financially maintain and one that was easy to get to for my dancers. After bouncing around a few places, we settled in Brighton Park, Chicago at a dance studio located in the Southside Mexican neighborhood that already had welcomed the Collaborative Institute of Cultural Arts.
Art Directing Performances
One of my favorite aspects of being an artistic director was always tech rehearsal. Collaborating with the lighting and production crews was part of the creative process I enjoyed the most, and directing the performance before showtime allowed me to push the limits of tradition toward entertainment value. No stranger to last-minute solutions, performances require great attention to detail and care and are subject to several variables defined on a case-by-case basis. For example, a big part of our show involved the use of burning incense, and we had to come up with an alternative to use in indoor spaces. A creative solution to this was the use of dry ice and water, which worked well in the representation of a ceremonial smoke cleanse. These were the moments where I enjoyed taking advantage of the creative opportunities I created for myself and my dancers.
Garment Design
When we began Itotia, we started with what we already had. Shortly after, we discovered that we needed our own style and something to separate us from the rest. After having defined ourselves as a performance dance team, I then gave myself permission to step outside the traditional and try something new. Using natural fabrics that could have been found in the Americas during the time of the Aztecs, I decided to design Itotia's new garments using rabbit fur and leather. They were created keeping in mind how we needed to move and making sure that everyone felt comfortable wearing them. Pheasant and rooster feathers adorned our copillis, or crowns.
Perfomances
During our short but successful run, I had the privilege of paying my performers. Together we presented Itotia in several notable venues and cultural institutions around Chicago, such as:
Building Community
As part of our growth, the dance team collaborated with local folkloric and traditional dance groups and stayed involved in our community by attending community-led lectures, taking part in traditional ceremonies, and learning Nahuatl. Many of our dancers were already active leaders of the community serving in sectors such as healthcare and education. I proudly offered credited marketing internships and encouraged leadership by broadening their spectrum of dance and knowledge. This was also done by providing them access to funding for other disciplines such as rock climbing, salsa, bachata, ballet, and African dance.
After School Matters
When we partnered with After School Matters, we began working directly with female youth at Farragut High School in Little Village, Chicago by forming a group called Danza Ancestral. This group offered comfort and a safe space for young women to come together and be themselves. Many of these young women were caretakers for their siblings or elders, mothers, and/or lived in high-stress environments at home. This judgment-free zone provided leadership positions to the young moms and mothers-to-be as well as communal emotional support and team-building. Danza Ancestral offered students a chance to receive a stipend in exchange for their time and energy. The curriculum I designed took students to various local neighborhoods to visit and integrate themselves into cultural dances such as African dance and bomba from Puerto Rico. This incorporation into other spaces became a crucial part of the lesson through the exchange of knowledge and appreciation of our differences. The program continued well into the pandemic, although it was forced to take a virtual form that limited those experiences. After the program ended, it was clear that several friendships had been forged, and some participants even received scholarships with the help of their leadership experience gained at Danza Ancestral. During this two-year period, Itotia was able to recommend the largest number of students in the history of ASM to receive mental health therapy, which many of them did receive.