At 6 pm, on a Friday night, guests begin to arrive. Everyone is led to their seats and I am shown to the counter. My favorite, I get to enjoy the full view of the kitchen. A glass of complimentary sparkling wine and warm eucalyptus hand towels are brought-out. The bartender warmly toasts me in honor of my birthday. Drinks are ordered by the patrons in the background, and the bar comes alive. The kitchen is prepped and tuning, a symphony waiting for the call.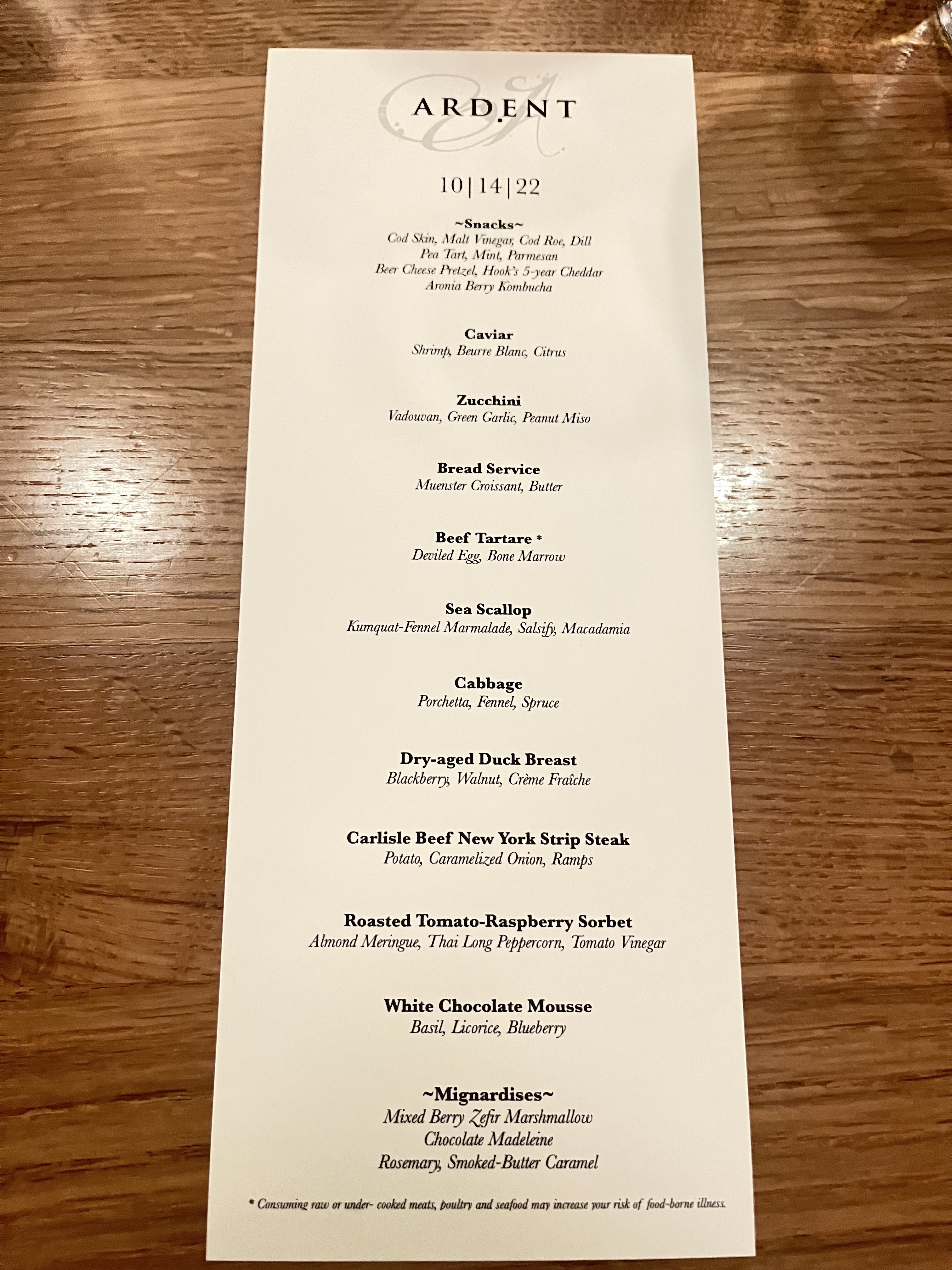 The interior dining area and bar are modern, with clean countertop lines made with organic materials. Dishes, tables, and hardware are curated with earthy stones and woods. Between hardwood floors and a terracotta-painted ceiling, the kitchen begins to stir, and Chefs patiently place ingredients together with delicacy and build miniature sculptures. Liquids are poured into vessels, and baked bites are transferred from the conventional oven and platted. They serve up to 16 people at Ardent, reservations are necessary. The energy tonight is contained, by a good deal of patience and the bartender who tends to me is consistently pleasant. She holds it together – the night kicks off.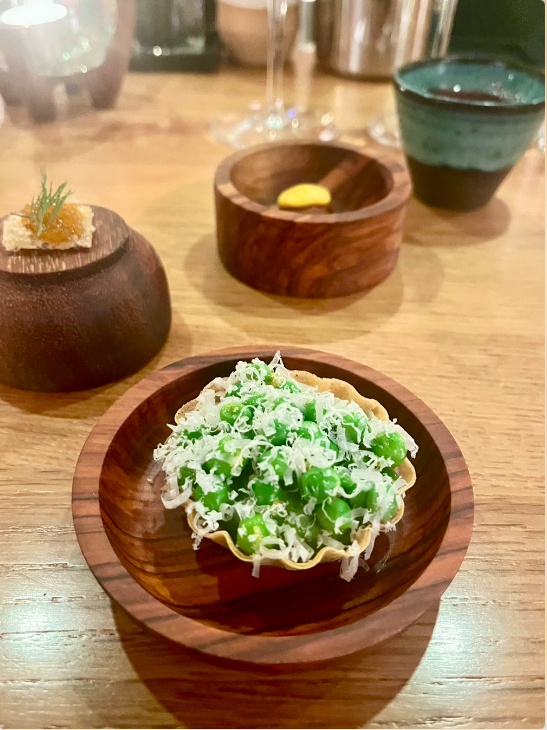 As the first course was served, I noticed that both the front and back of the house are part of this performance, a post-pandemic plight due to short-staffing. Pairs delight in each other, unaware of any last-minute changes, but I am here elevated in self-representation, wrapped up in the drama unfolding before me. This is a very small kitchen, I might as well be sitting at the counter at my friends moms house, and I always enjoy being an ethical chismosa. I am entertained by the timing of everything and the silent execution by the Chefs holding stoic expressions. The results are a visual parallel to the taste – lovelier by the spoon, crispy, clean, bold, and sweet, tied all together with nostalgic, citrusy ingredients. 
I am having such a good time, I sip on a glass of Château Guiraud, Le G de Guiraud Bordeaux Blanc Sec, and it's going down so good. All at once, I imagine Angel walking through the space, not working but coming to casually sit next to me with his navy blue jacket and tie, the Last Word in hand. I look around, and we are living in the space he had once described to me. We are finally here together, having dinner amongst the Japanese room dividers and the moss-green walls that discreetly warm and invite intimate spaces under candlelight.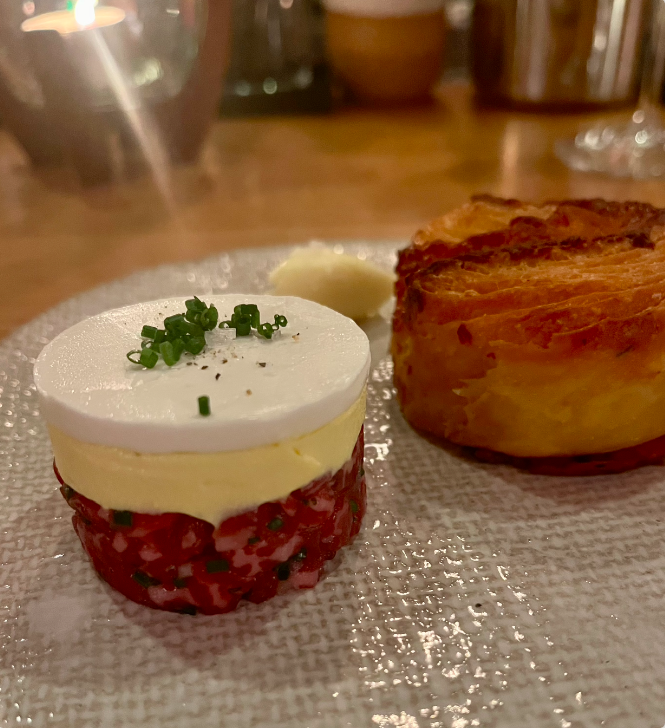 Everything is timed right – everyone knows their role. This choreography is synchronized, and the energy is anticipating the next move. As the night progresses, the air behind the counter relaxes. Those with wine pairings get each glass before the final touches are platted, and all hands are on deck behind the counter, one-by-one they set out. There are six pairs dining tonight, and I am the odd seventh. At the top of the line, the freshest plate, the best saved for last – timing is everything.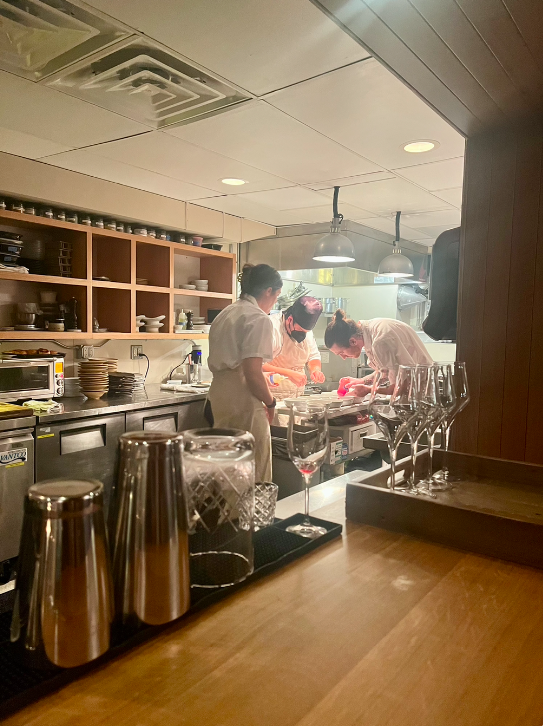 I can feel him with me. But I'm not giving him a mind because I got a glass of wine on top of me, and we all know why I do not drink. Grief, so deep, I can place a tent there and camp. However, I promised myself that if I did, it would be to create better, positive memories. After all, we are rewiring experiences and breaking patterns. Here we are, living our best life, sitting in the best seat in the house.
As we approach dessert, the kitchen seems much emptier. Sporadic laughter breaks among the Chefs. The cleaning had begun, but then I realized it never stopped, and nobody had left a dirty dish sit. Dessert made and personally brought out by the goddess herself, introduced me to yet another delectable contemporary perspective. This was the second time a female Chef inspired overwhelming nostalgia as an encore. (Daniela Soto-Innes once brought a tear to my eye on a trip I took to Willows Inn last year.) The White Chocolate Mousse is a must-have at Ardent. And as I process my experience over my coffee, I reaffirm to myself – I would've never thought of pairing a Chanin Blanc with dessert, but it works. The event is a little short of 3 hours and very enjoyable. My coat is brought-out to me as I stand and applaud the kitchen for an unforgettable performance.
In loving memory AYMB